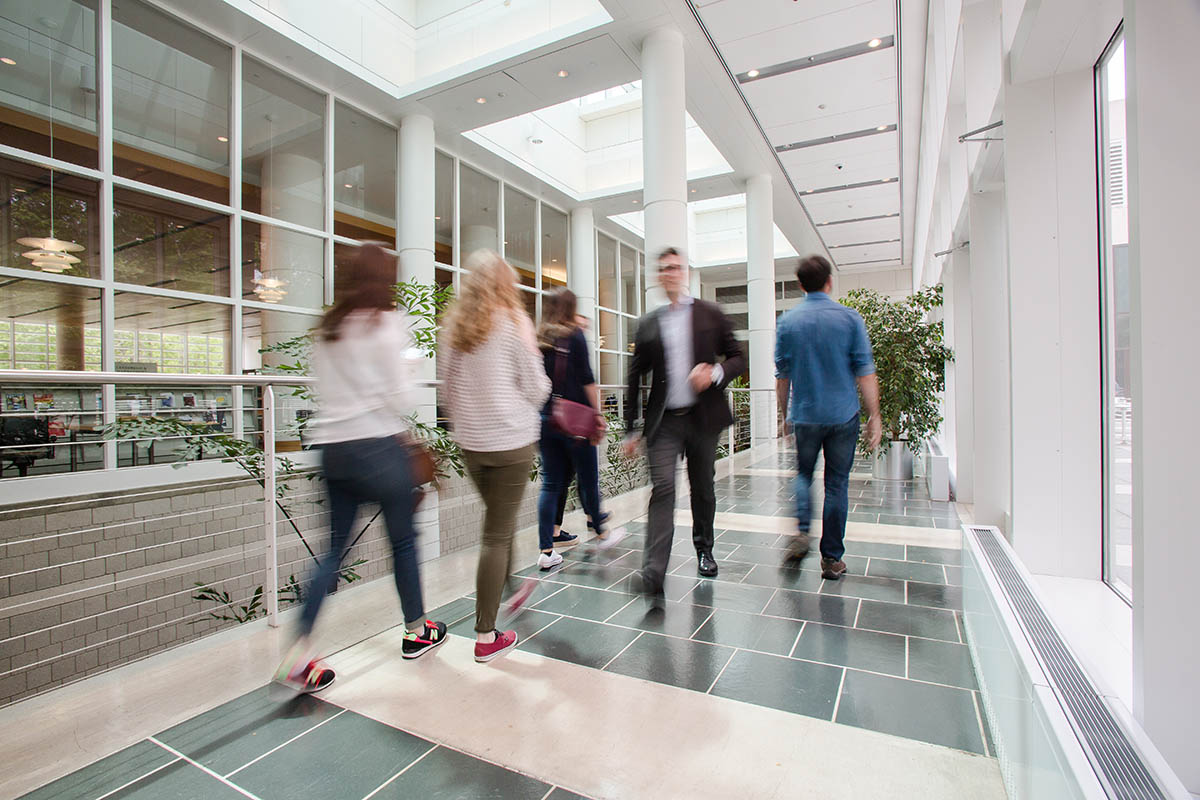 Fuqua's "25 Random Things" application essay has become well-known over the years, and it remains a great way for the admissions committee to get to know applicants. So in that spirit, here is a sampling from each of our lists.
Zhiyi Feng
My childhood dream is to be a pastry chef. Although I went to an accounting school rather than Cordon Bleu, I started my baking life in college and have put together a recipe book with the goodies I have made.
I keep a running list of jokes that offer me sufficient supply when I need to cheer friends or myself up.
I have breathed air at an altitude of 3842 meters. Despite my fright of height, I was up to the mountaintop of Mont Blanc in Chamonix, France, via the waggling cable car and I stepped out into the utmost pure white and blue. The view was breathtaking, even though it was so cold that I could not feel my fingers.
I love collecting quotations. Sometimes I come across inspirational ones from casual readings, and sometimes I pick up lines from the book that touch me and speak for me. I once did a quiz to discover the punctuation mark that stands for me. As expected, I got a quotation mark as my result.
The postcard is one of the most important things that bonds my friends and me. So far I have received more than 35 postcards from more than 20 different cities across the world.
John MacDonald
One of the proudest moments of my life was on a trip back to New Orleans to watch my former students graduate high school. It was a powerful moment to have student after student approach me, look me in the eye, and thank me for the influence I had on their life. There are some emotions that are impossible to capture in written form. This is one of them.
My mom beat skin cancer when I was in high school. Ever since, I have been known as the "Sun Screen Police," ensuring that my friends and family are always protected. When traveling, my friends echo my solar-related words of wisdom: "Just because you can't see the sun doesn't mean the sun can't see you."
The most embarrassing moment of my life occurred atop the Eifel Tower. After waiting for hours in the pouring down rain with my family, we were finally able to experience the breathtaking view of Paris at night. While overlooking the city under a peaceful drizzle, I saw a flash, frantically screamed, "LIGHTNING," at the top of my lungs, and started a mini stampede to the stairs. It was a camera flash. We were asked to leave.
My favorite board game is Scrabble. My best move was on a family vacation, when I played the game ending, seven-letter, 84-point word "QUIETENS." This was the final game of a 13-game series against my dad, allowing me to walk away the victor, seven games to six.
The only pet I ever had was a fish named Bruce, named after the artificial shark machine used to film "Jaws." As Bruce grew, my tank became too small and I gave him to my grandmother to put in her backyard pond. He was eaten by a raven the next day. RIP Bruce.
McCallen Moser
Broccoli has always been my favorite food. So, when I became a vegetarian in 2008, it came as a shock to no one.
"Vorrei un piccolo cono di gelato al cioccolato, per favore," was my favorite phrase I learned while studying abroad in Florence, Italy (since gelato was a daily occurrence for me). I still keep in touch with Samio, the owner of my local gelato shop, on Facebook.
A free Shock Top was the motivation to finish my first Tough Mudder race; 11 miles later and a beer never tasted so good.
I collect coffee table books from every place I visit. In my future home, I want a study with a massive bookcase where I can reflect on all of my travels. My latest acquisition is a book about wallpaper from Dublin, Ireland.
Pick a day in the last eight years and I can tell you what I did that day. Some may call my calendar crazy, I just call it organized.
Ariadne Sabatoski
When I was younger I used to ask my parents for gifts every time I would go to the mall. They always said "no" to anything but books. I understood that I should always ask for books, and I would always read them with my parents. This made me love reading.
My specialty in the kitchen is something that people always say "it cannot be good," but they love after eating: banana lasagna (and it is salty, not sweet).
I love Carnival because it is a 4-day party, in which everyone is just enjoying themselves and their friends. I also love costumes, and I can wear four different ones at a bunch.
The best movie I have ever watched is "Seven Brides for Seven Brothers" (1954). My grandfather once told me that this was his favorite movie and he would like to watch it again. I found it on the internet and invited him to a movie session, and, surprisingly, I ended up enjoying the movie as much as him.
I have never seen snow in my life. I know I will look like a child having a snowball fight and building a snowman when I see it for the first time. I just cannot forget the carrot for its nose.
Charlotte Whittaker
My favorite holiday is New Year's Eve because I love the idea of starting fresh. Despite living in different states, my college roommates and I always get together to celebrate the new year.
I enjoy doing all types of crafts and have master glue gun skills. After helping with department Haloween costumes and Christmas decor, my previous coworkers gave me the title of "Chief Crafting Officer."
I met my fiancé in an undergrad Spanish class at the University of Georgia. Seven years later, he took me back to campus and proposed in front of the same building.
If I could only eat one food for the rest of my life, it would be pizza.
I am a proud Sephora VIB Rouge member with a 12-step skincare routine. While my skin feels great, my bathroom counter could use some help in the organization department.