Category:

Academics
How Fuqua Forged Ahead During the Pandemic
Whether it be the professors, the Office of Student Life, or the students, the entire Fuqua family came together and forged ahead during what probably will be one of the most challenging, yet interesting terms at Fuqua. And here is the story of it.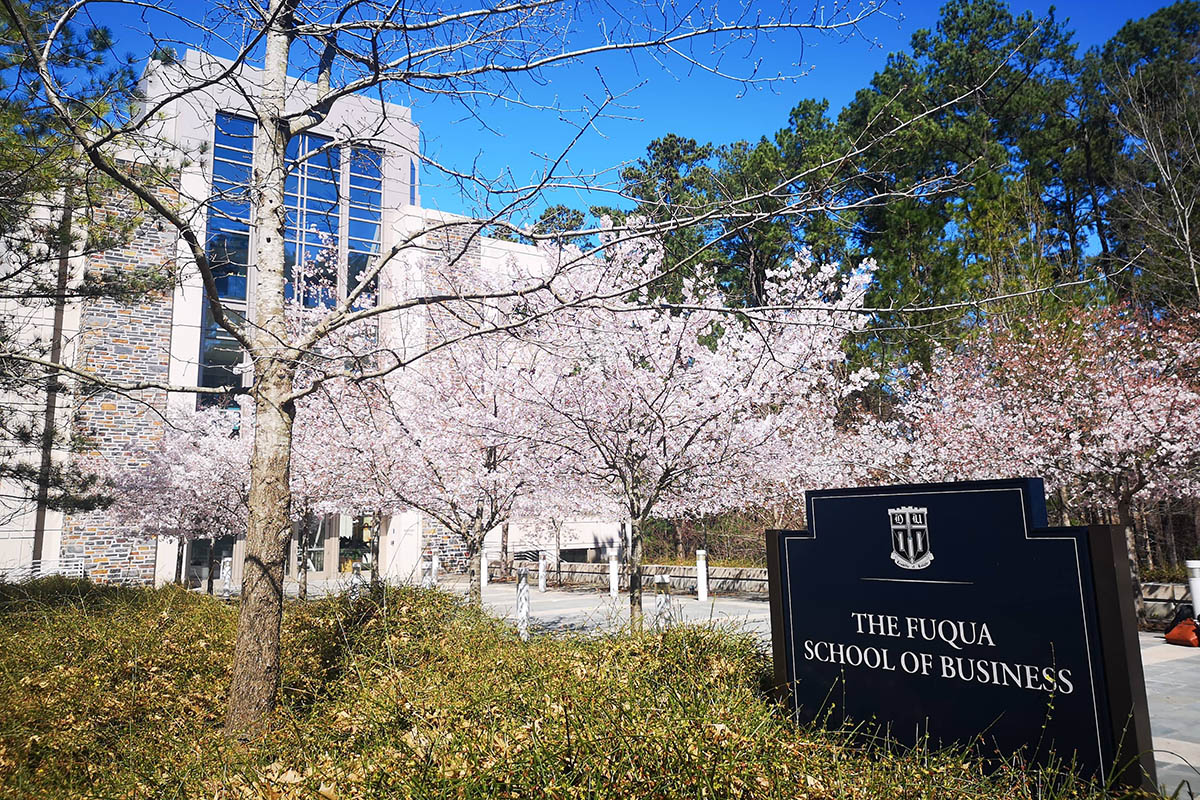 ­COVID-19 has obviously been an unprecedented situation for the whole world. And of course, this means life as usual at Fuqua was impacted too. However, we wouldn't be where we are if we weren't resilient in the face of such daunting odds. Whether it be the professors, the Office of Student Life, or the students, the entire Fuqua family came together and forged ahead during what probably will be one of the most challenging, yet interesting terms at Fuqua. And here is the story of it.
The Classroom (AKA Zoom Room) Experience
Fuqua, and Duke overall, were quite ready and able to switch to Zoom when the situation escalated at the end of our spring break. All our classes throughout Spring Term 2 were conducted on Zoom. There were of course initial hiccups as people were testing the waters, but within one week, it became a rather pleasant experience. We all kept our videos on, and we showed up as if we were in the actual classrooms. The professors were initially teaching from their offices or classrooms in Fuqua and later as the local lockdowns were initiated, they started teaching from their study rooms in their own homes.
Zoom classrooms were quite fun. Some professors preferred we ask questions in the chat, while others encouraged unmuting and participating more directly in the discussions. Some would take pauses during the classes to let you ask questions as well. One thing that didn't change with the migration to Zoom was the 15-minute break at the 1-hour mark. Class would start on time and end as usual, and students could stay on longer and ask questions if they had time. Professors would make individuals or teams hosts of the session if we had to present anything. For team related events (such as negotiations), they used the breakout room feature, which worked well. However, my favorite part of the Zoom experience was the virtual backgrounds that people had during that time and the fun we had with it.
One thing that was even more impressive was the number of guest lecturers we had during the term. As all sessions were online, it was easier for us to invite people from both academia and industry. The highlight for me was when we had Myron Scholes, Nobel Laurate, 1997 in Economics, visited our class and spent an hour discussing both his Black-Scholes option model and other things in finance.
Exams also moved online. Some exams were already designed to be taken at home so that didn't change in any way. But ones that were designed to be conducted in classrooms were conducted live on Zoom—that included switching your video on and working as usual.
Aside from classes, the sessions led by teaching assistants were also held on Zoom, and it was done via screen share or sharing notes via the document scanner. Our meetups with student mentors and fellows were done through Zoom or other online conferencing options as well.
The Outside-the-Classroom Experience
An integral part of any MBA is the experience outside the classroom. As best it could, Fuqua continued with this as usual. One of the biggest outside-the-classroom experiences is the weekly happy hour social, Fuqua Friday. This tradition continued at the normal time (Friday at 5:30 p.m.) via Zoom. A lot of people showed up every time, even with their partners for the event. Marquee events like the Culinary Club's 'Iron Chef' event were also conducted during the designated Fuqua Friday time. The events were creative and people chit-chatted with each other, keeping the spirit of Fuqua Friday alive.
Trivia Thursday was a new addition to major Fuqua events where a specific group of people prepared questions and we could participate via a team competition on Zoom. Forming teams was up to us, so we could play with friends across class sections or just play with our C-Lead team. Points were scored and noted and you would find out at the end which teams won. It was a great way to stay connected to our classmates as well.
Catch-ups with our COLE leadership fellows were also online. Interviews for club leadership and fellow positions and recruiting-focused lunch and learn sessions presented by clubs all happened online. The frequency of club events during our lunch break from class didn't change at all.
However, at the end of all this, we did miss some events, such as the annual Fuqua Idol talent competition. However, the goal now is to host the biggest Fuqua Idol ever next year.
Other Changes at Fuqua
All the main resources at Fuqua were available regularly. Career Management Center coaches were available for 'walk-ins' and chats as most of our summer internships pivoted to online. The Office of Student Life and registrars continued to help us as usual. We were given the choice of opting in or out of letter grades for the term and that helped people focus on their subjects without being too anxious about the new academic environment.
Durham
COVID-19 cases in the area never got out of control, and essential services continued in the city without any hiccups. Groceries and utilities were readily available at stores. Delivery continued and there was minimal disruption to daily life.
Group Gatherings and Travel
Unfortunately, most of the non-Fuqua events had to be abandoned or changed dramatically. Travel and treks planned for the weeks between the end of class and the beginning of internships and jobs were canceled. The traditions of going to The Tavern on Tuesday nights and Shooters on Fridays were postponed. Durham County issued a stay at home order for everyone. You could go out for urgent things of course—such as trips to the doctor, or getting urgent items—but otherwise had to be home by 5:30 p.m.
However, students came up with new ideas to stay connected. A friend started an online cooking class where he would send out an ingredients list ahead of time and everyone could follow him on Zoom as he showed you how to prepare the dish. Personally, my C-Lead team started a virtual Friday lunch where we would just get together to stay in touch and chat about classes and other topics.
There ended up being a few virtual Tavern Tuesdays as well. There were virtual tours all around. The world came to a stop. We didn't.
What Now?
We wait, and we pray, hoping for the order of things and the world to go back to normal. Orientation for the Daytime MBA Class of 2022 has been moved to August 31. My second-year classes will begin later than originally planned on September 29. The graduates in the Class of 2020 were celebrated online for the time being, with the goal being to give them a more fitting farewell in person soon.
So we will wait to welcome the new batch of MBAs as warmly as we can. We will wait for Fuqua Reunions next spring to welcome the Class of 2020 back home. We will wait for a lot of things now, but we have the support of Team Fuqua to help us pass the time.