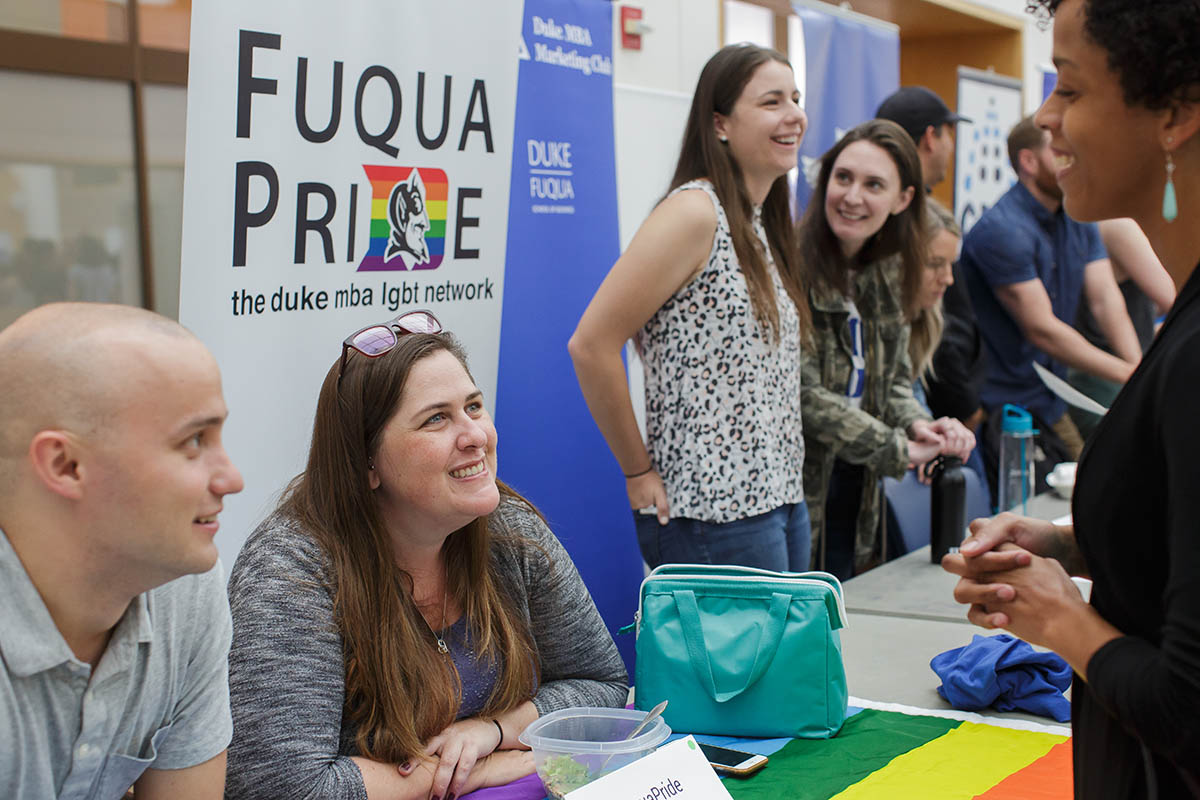 I remember visiting Fuqua for the first time during Pride Weekend, an event for LGBTQ+ prospective students hosted by Admissions and Fuqua Pride. I had been researching business schools for a couple years, and after a while, all the top schools seemed the same. They touted rigorous academics, global experiences, and expansive alumni networks. I needed something that would cut through the sound bites and similarities to know whether or not I, an openly gay individual, would belong.
Coming from Washington, D.C., I was accustomed to a professional network and social circle centered on LGBTQ+ organizations, sports leagues, and social clubs. I felt secure with my comfortable, close-knit queer community. Based on what I had read about "Team Fuqua" and the "Fuqua Family," I figured that the school had a strong and loyal community similar to the one I had carved out for myself in D.C. Still, I recognized that I would be attending business school in the South and needed to know that the Fuqua community included people like me.
During Pride Weekend, I met current students and alumni who showed me that despite my initial trepidation, Fuqua and Durham would be safe spaces to welcome me exactly as I am. I saw myself represented in current students and alumni who volunteered to take time out of their busy lives to share their experiences as LGBTQ+ members of the Fuqua community. I noticed that not only were LGBTQ+ students treated like everyone else, they were respected and valued and among the leaders in the school.
Moreover, the effort and expense by Admissions to host LGBTQ+ students from all over the world for a weekend proved that Fuqua recognized the value of diversity and the unique perspectives that we as queer people bring to the school. We were actively sought out to join the Fuqua Family.
As special as the weekend was, what solidified my reasons for attending Fuqua happened well after I returned home to D.C. Like every other business school applicant, I pored over GMAT prep books, agonized over essays, and went cross-eyed making sure my resume was perfectly formatted. Throughout the arduous application process, the current students and alumni I met during Pride Weekend gave me notes on my resume, read over every word of my essays, and championed me as I walked into my admissions interview. These people had no real incentive to help me, an applicant who may not even be admitted. Still, they demonstrated a care and concern for me that proved this Team Fuqua stuff was not just marketing on glossy brochures and manicured websites.
Now that I'm a first-year student, I see the Team Fuqua spirit every single day, particularly in Fuqua Pride, the community that initially brought me here. When I decided to apply for internships during the Reaching Out MBA (ROMBA) conference, it was members of Fuqua Pride who made sure my resume and cover letters were ready, who were first to help me with case prep, who offered words of encouragement when I didn't get an internship, and who celebrated me when I finally did.
The support I've had from Fuqua Pride and our allies in the student body and the administration proves day after day that I made the right decision in coming to Fuqua. I'm honored to be a part of a community that goes beyond offering LGBTQ+ people tolerance and acceptance to offering empowerment and belonging.