Category:

Life at Fuqua
Balancing Academics, Family and Fun While Pursuing an MBA With Your Partner
For anyone, getting your MBA means becoming a master in multitasking and prioritizing, but taking on the program with three kids and your partner as your classmate—those skills jump to a new level.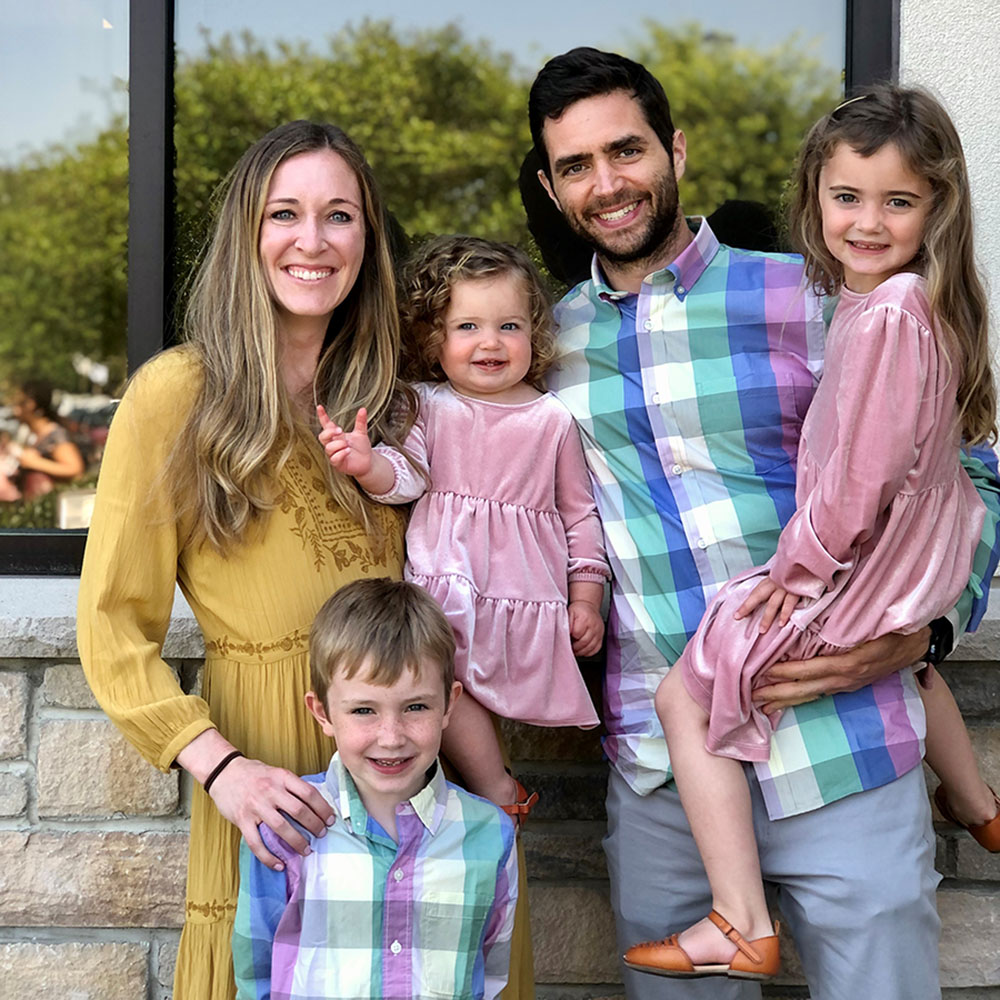 For anyone, getting your MBA means becoming a master in multitasking and prioritizing, but taking on the program with three kids and your partner as your classmate—those skills jump to a new level. It's an intricate balance between classes, extracurricular responsibilities and social opportunities while knowing there are moments when we have to go with the flow. We answered some questions about how we make it all work and, at the same time, take opportunities to spend time together.
What are the positive aspects of being classmates? What has been challenging?
STEVE: The transition into business school can be hard, but navigating the transition with your best friend makes it a lot easier. It is really cool to sit next to each other in class, work on projects, and even recruit together. This experience has shown me a side of Kelly that I didn't fully appreciate before. Every day I see her intellectual and creative side and realize even more how impressive she is as a professional. It has been challenging to plan around our and our children's schedules, but even this has had positive outcomes. Now we are much better at communicating our daily priorities and at working together to help the family run smoothly and happily.
KELLY: One of the great things about being classmates is we understand what the other is going through. Whether it's a late night to finish a class project, an important upcoming recruiting event, or the long coffee line during the class break—we both understand the ins and outs of life at Fuqua. It doesn't come without some downsides, however. What's worse than buying one parking permit? Buying two. Also, we quickly learned that being on separate teams for classes required twice the time commitment from our family. If Steve had a group meeting for an assignment, I would cover the kids and dinner, and then afterward he would take the kids and do the bedtime routine while I attended my group meeting. We found a better solution was to be on the same project team, where we could work on the assignments together. Not only was it less of a time commitment, but we could also share our thoughts on the assignment without being in danger of violating any Honor Code policies.
Can you describe what it's like for a family at Fuqua and in Durham?
KELLY: We chose Fuqua because we felt it was a great fit for our family, especially compared to some of the other MBA programs. For us, business school has been a true family affair. The year-round great weather means we can be outside, exploring what Durham has to offer. We love the kid-friendly atmosphere at Fuqua and local Durham breweries and restaurants. Additionally, the lower cost of living provided us the opportunity to purchase a home here in Durham, proving to be a great financial investment.
STEVE: Durham is an awesome place for partners and for children. It has great places to live, great playgrounds, good schools, and cool activities—the Museum of Life and Science and Durham Bulls baseball games are our favorites. We also enjoy the great food and proximity to outdoor activities. Large family or not, there is a lot to do here for everyone!
What was the recruiting process like?
STEVE: Leaving the Army, I wasn't sure what professional path I wanted to pursue. I leaned on second-year students and the Career Management Center (CMC) military mentor to direct my focus and used the recruiting process to help me learn about different industries. As I learned more about different positions and industries, I was able to cross things off the list and narrow my focus. It was tricky because of time commitments, so Kelly and I had to work together and be very efficient with the events we attended, ensuring that we didn't stretch ourselves too thin. In the end, the recruiting process is what I am most grateful for at Fuqua. Recruiting and interview prep will make you a better thinker and communicator. Once you finally land the internship, it can be used as an opportunity to try something completely new. If you love it, you can keep doing it; if you don't, you can find something else. And if you do decide to do something else, opportunities will present themselves here that wouldn't exist anywhere else.
KELLY: Like it was for most Fuqua students, the recruiting season was a challenging and busy chapter in our business school experience. We tried to avoid attending too many events outside of the normal business day but, when necessary, hired a babysitter to make it possible to attend recruiting dinners or info sessions. We jokingly referred to them as our "date nights." In the end, we both landed great internships and are excited about our full-time roles which will be taking us to Denver, Colorado. We are happy that we focused on what we really wanted and went after it, not letting ourselves get too caught up in the hype of recruiting season.
What extracurricular activities are you involved in, and what were your motivations for getting involved in those activities?
KELLY: As an Army veteran and mother, it was important to me to find ways to connect with and serve both of those communities. I am on the cabinet for the Duke Armed Forces Association (DAFA), acting as an Admissions lead and connecting with prospective veteran applicants. I'm also on the cabinet for the Association of Women in Business (AWIB) as the Motherhood lead, providing opportunities for Fuqua mothers to come together, encourage and support each other on the business school journey. Before graduating, I will help facilitate an event on fertility and women's health for any Fuqua student who is considering parenthood as well as an "Ask Me Anything" session with other current Fuqua moms who will share their personal motherhood experiences.
STEVE: I am one of the co-presidents of DAFA. I saw it as an opportunity to give back to the veteran community. It also keeps me connected with a community that I had grown very close to in the Army. I am also a Fuqua on Board Fellow having the opportunity to serve on the board of a local non-profit organization. I chose this opportunity so I could continue serving in some capacity while gaining experience from experts in an industry that I knew little about.
What have been your top experiences in the Daytime MBA program?
STEVE: In addition to enjoying these two years with Kelly and our family, it has been a great opportunity to make and grow new friendships. Team Fuqua attracts caring people who want to make you better. Fuqua does an exceptional job at bringing people with unique perspectives together and creating an environment where everyone can grow from these perspectives. I am confident that the friends I made here will be with me for a very long time.
KELLY: It is amazing to look back and see how much we have learned and grown over the past two years. Steve and I are a stronger couple having navigated the demands of business school together. I have loved watching Steve balance his role as a dad, husband, and student—all while stretching himself professionally to start a new career in a completely different industry. I am proud of us (and our kids!) for going all in at Fuqua and love that our kids have learned more about the world through their interactions with our friends and classmates. I cherish the friendships and look forward to staying connected with others as we start new chapters after graduation.
What is one piece of advice you have for other partners considering an MBA in general and attending Fuqua specifically?
KELLY: Two years of school is a big investment for you, your partner, and your family. Consider what is most important to you and make sure the school you choose will provide an experience that is worth that investment. For us, Fuqua was the right place for our family and we are better for taking this leap. Also, remember that you and your partner are a team—be a good teammate!
STEVE: If it is a goal, go for it! Don't let the potential hardship deter you—Team Fuqua is here to help you get through it.