Monday, January 19, 2015, was not a regular Monday.
It was the day I arrived in Shanghai with three of my MMS: DKU classmates. We were all coming from different cities, but we met up in Toronto to share the same flight from there to Shanghai. After my 35-hour trip from Buenos Aires, arriving in the Shanghai airport and seeing someone with a DKU sign waiting to drive us to the campus was simply fantastic. Cultural immersion started right away; I'm not going to lie the way people drive here is a little scary to me, but somehow they manage not to hit each other and we safely made it to campus after experiencing what Shanghai rush hour is like.
Having a week-long orientation before classes started was very helpful for adjusting to the jetlag. For the first time in my life, I found it easy to wake up at 6 a.m. As the days went by, my clock naturally adjusted itself, and after one week in China my sleeping schedule was back to normal.
During orientation week, we received all of our DKU swag, which included a backpack we could use for class, as well as a reusable water bottle and an umbrella, which I have been using more often that I thought I would. We had some very informative sessions to learn about our health care plan while in China plus all of the resources available on campus, and we were able to get local phone numbers as well.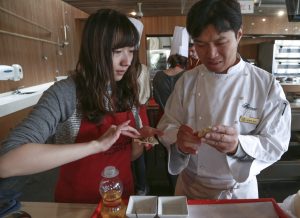 My favorite event was going to an organic farm in Kunshan for team bonding activities, which included riding bikes, picking some vegetables from the farm and learning how to make dumplings! Yet, maybe the most important thing that I learned was that not only is the driving a little 'crazy' compared to what I was used to, but so is being a pedestrian. In Kunshan motor scooters drive on the sidewalk and honk at pedestrians, so one must be attentive at all times when on the streets.
Once we were assigned to the new study teams that we'd have for the rest of the program, we had an all-day scavenger hunt in Shanghai. Our Chinese-speaking team members helped us figure out how to take the train from Kunshan to Shanghai, which takes only 18 minutes, as well how to use the subway once downtown. We had time to visit the main tourist attractions which included walking around People's Square, East Nanjing Road and the Bund. We also went to an international market where we could get "comfort" snacks, a tailor where you can get tailored suits for 100 USD, and visited the Fuqua East Asia regional team's office.
Needless to say, it was an exhausting day but a lot of fun and a great opportunity to bond with our new team. Something that really stood out to me was that the sidewalks have special patterns which are not very comfortable to walk on, but were made that way so blind people could easily get around. Also, taxis are very cheap; however being able to hail one is not easy.
After a week of orientation, classes got started and I quickly remember why I had come to China—to finish my masters, not for a 4-month vacation. To ease us into classes and help us learn about China and the Chinese culture, after the first week of classes the MMS: DKU program staff organized a visit to Ant Financial (a division of Alibaba that runs the Alipay online payment platform). There we met with an alumnus currently working at Ant Financial and learned about their recent IPO, China's biggest to date.
We then had an overnight trip to Hangzhou. The small city of Hangzhou was simply amazing, and it gave us another opportunity for team building and fun while trying local food, taking a boat ride on West Lake, and visiting a tea plantation and taste its teas. In Hangzhou, the world once again proved to be very small. Walking around at night we went into a Jazz bar, where the singer was Brazilian, the sideman on the bass was from Chicago and they were playing some bossa nova (Brazilian music). The Brazilian singer even gave me a Guarana (Brazilian soda) before I left which I shared with the group so we all got to learn a little about Brazil while in China.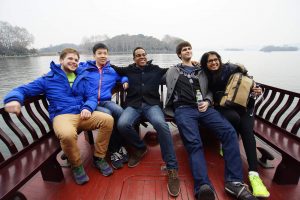 We successfully finished our first week of class, and we were all excited for the Spring Festival (what the Chinese call the Chinese New Year) that was coming up in two weeks. Before the Spring Festival however, came the Super Bowl which quite a few of us where keen on watching. Due to the time difference between China and the U.S., the game would start at about 7:30 a.m. on Monday and end around 11 a.m., which meant it conflicted with our Managerial Accounting class. Needless to say, we brought this up to Professor Jennifer Francis and the MMS:DKU staff and they agreed to delay the start of class so we could watch the game—and we were served an American-style breakfast! They treated us to 'American' food for the day, which made us very happy as people were starting to crave some foods from the States. For lunch they ordered Papa John's Pizza as we had a shorter lunch break than usual due to the schedule change. It was an incredible day made even better by the New England Patriots' Super Bowl win!
Stay tuned for an upcoming blog about my two weeks exploring Hong Kong, Macau, Guangzhou and Beijing, where we experienced the Spring Festival in all its glory!