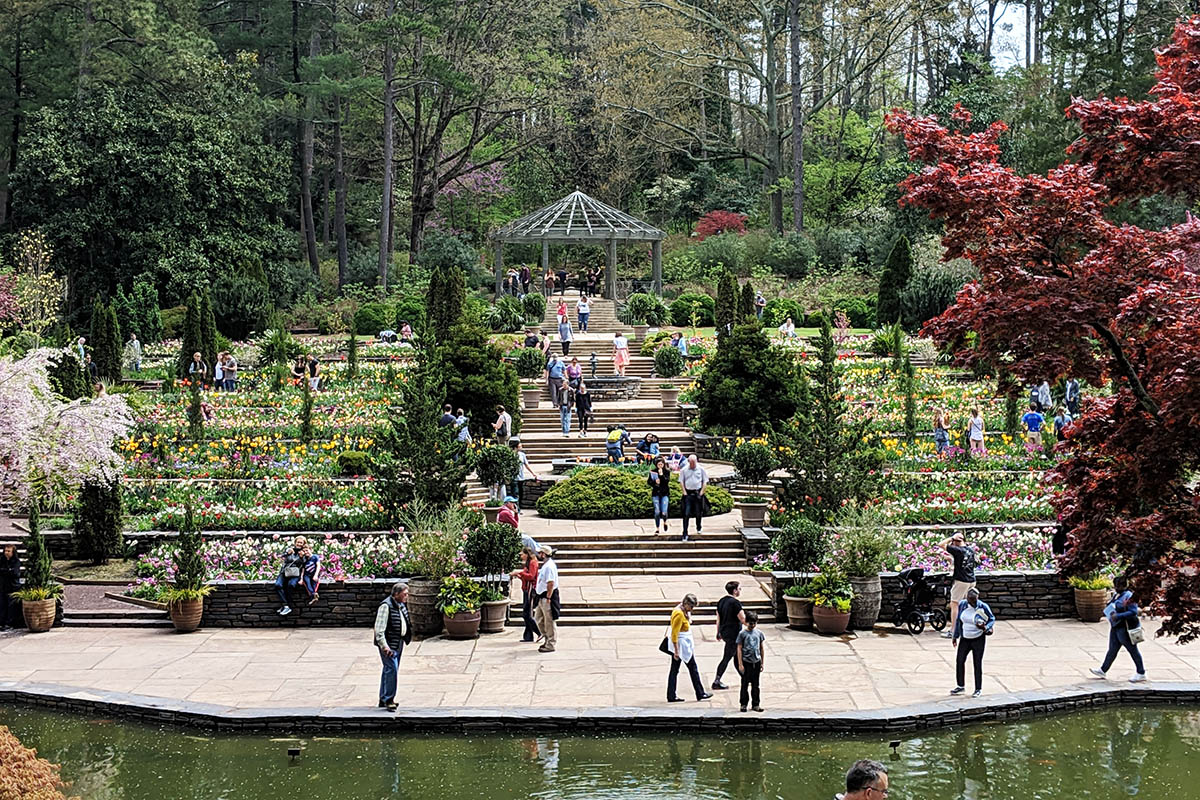 I felt confident in my decision to join Team Fuqua when I met the campus in person. I remember walking through the famous Duke Gardens with my parents, drinking in the sunlight and watching the ducks. I felt convinced in that moment I could make a home here. Now, as an admissions ambassador, I work on a team of awesome MMS students to provide the same experience to prospective students who visit campus.
So, what can you expect when you schedule a visit with us? You'll get the chance to speak to current students, the admissions team, and our Career Management Center (CMC). And we provide a free lunch! The usual campus visit includes the following opportunities to learn more about the program:
Class Visits
Sitting in one of our classes for an hour gives you great insight into our curriculum and classroom culture. Oftentimes you'll get to speak with the professor afterward. I also try to use class visits as an opportunity to introduce prospective students that are with me to one of my classmates who comes from a similar background as them, whether that be academic or cultural. I definitely recommend sitting in on a class, since that's where you'll spend a good chunk of your time here. Keep in mind though that we have a very diverse curriculum so not all your classes will be like the one you visit!
Lunch with Current Students
You can come to the Fox Center and sample our cuisine. Fox offers meal options for all diets including vegan or gluten-free. Once you have your free meal in hand join our ambassador table to speak with current students. We have a casual, informal conversation with the goal being to answer any questions you have.
Meet the Program Team and CMC
The MMS program team and CMC give a presentation when you visit campus describing the support students can expect to get from them. Both offices are dedicated to helping students navigate the program. The MMS program team runs the administrative side of MMS, and hosts events for students like outings to Durham Bulls baseball games and casino nights.
The CMC advises students on every step of the job recruitment process from resume sharpening all the way to helping with your offer negotiations.
Both offices have been great resources for me. For example, the Program Team helped me acclimate to the program and my weekly visits to the CMC sharpened my interviewing skills until I landed my job. I think it's a smart move to get connected with them early on.
Tour Fuqua and Duke's Campus
No visit would be complete without some sight-seeing, and Duke offers some great sights to see. In Fuqua you'll walk through the hall of flags representing our school's diversity. On Duke's main campus an admissions ambassador will walk you by the famed Cameron Indoor Stadium (Duke's basketball arena) all the way to the signature Duke Chapel. In my opinion, you have to see the gardens too.
If You Can't Make it to Durham
Lastly, if you aren't able to travel to campus, we also offer virtual information sessions that provide an overview of the program and share application insights and tips. And to connect with current students virtually, reach out to our ambassadors for MMS: FOB or MMS: DKU.