Category:

Clubs
Making Connections on the Tennis Court
The diversity at Fuqua can allow you to expand your passion, whatever that may be.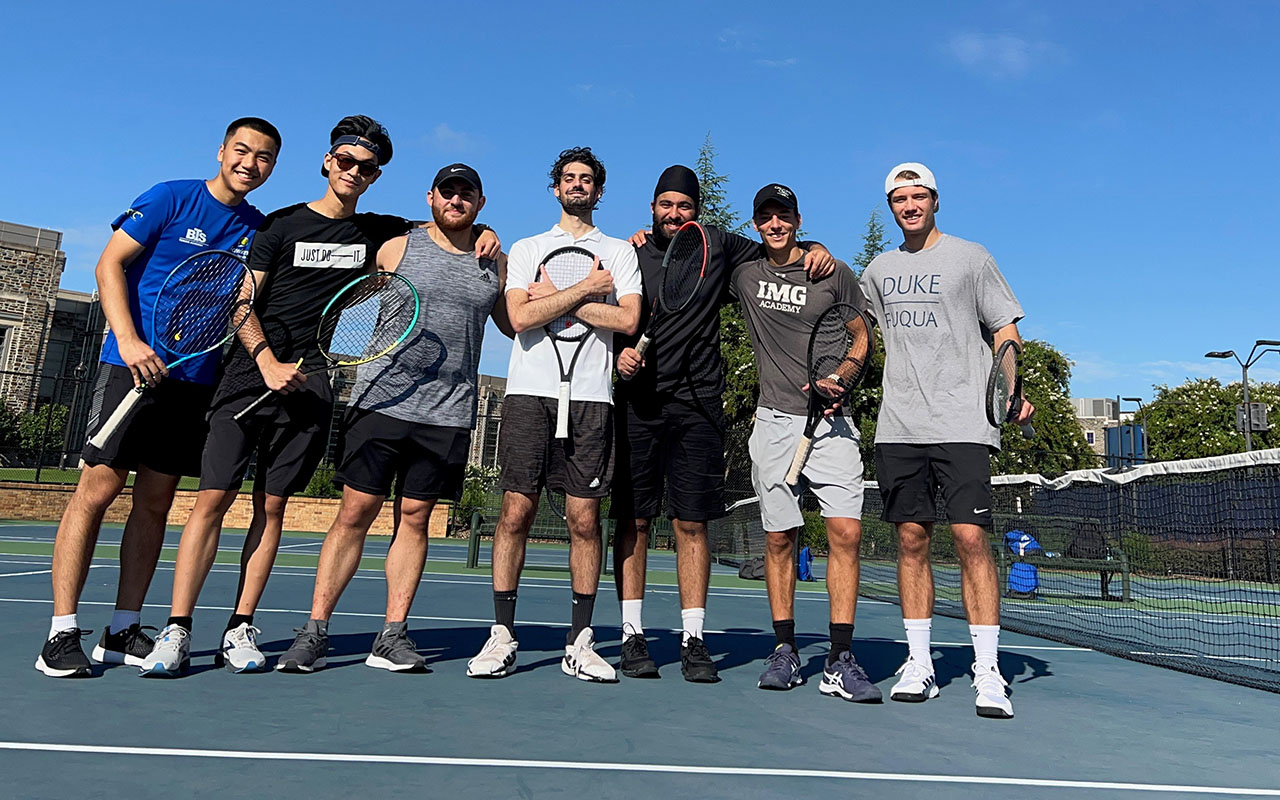 There are no classes for MMS students on Wednesdays. Some use it for sleeping in, meeting up with teams and doing homework. I use it, at least from 8 to 10 a.m., to play tennis with my friends.
Tennis is my passion, and I have been playing for over 10 years. Prior to coming to Fuqua, I would play tennis almost every other day with my friends at the local club. I was concerned about having the time and opportunity to do that at Fuqua, not to mention finding people who would play with me. It turns out, those concerns were very short-lived.
During one of the first classmate networking events, I met some friends who also share my passion for the sport. We started a group chat and soon, it grew to more than 40 people. We "recruited" our friends into it too, as we wanted it to accommodate any skill level, from beginners to seasoned players.
Duke's main campus has six Blue Devil-themed tennis courts right outside the Wilson Recreation Center, sandwiched between the indoor and outdoor courts used by the athletics team. While it does get crowded sometimes during the day, especially on weekends, it is a peaceful and majestic place to be at 8 a.m.
We usually have between three and ten people in each session. But it is more than just hitting tennis balls. Since most of us are in different sections within MMS, and some in the MQM program, we cherish the opportunity to catch up. It has also become a tradition that after our two hours on the court, we head down to Brodhead Center's Panera Bread café to have brunch and hang out together.
In the tight and busy program that is the MMS, having a place and a group of people to enjoy your hobby, is the best way to spend your free Wednesday morning.
Of course, once a week can never be enough for us. We very quickly started hitting on Saturday too, just not at 8 a.m. We once had our accounting professor Kevin Chen join us for a session too. He was a seasoned player, let's just put it that way.
My passion for tennis also brought me beyond the MMS program. Fuqua has a tennis club organized by the MBAs. I, along with a few of my friends, signed up for their competition held near the end of the fall term. In addition to meeting new people and playing with those outside of your friend group, it was great to network with some MBAs who share your passion for the sport. I have stayed in touch with some of my opponents, both to arrange future matches and also just to chat and talk about their professional and personal life.
While tennis may not be everybody's cup of tea, one thing is for certain. The diversity at Fuqua can allow you to expand your passion, whatever that may be; and use it to meet new people, and have a whole lot of fun along the way.