Category:

Balance
Making it Work as a Single Parent Pursuing an MBA
Is having a full-time job while getting an MBA difficult? Is being a single parent challenging? How about having a full-time job while getting an MBA and being a single parent all at the same time
Is having a full-time job while getting an MBA difficult? Is being a single parent challenging? How about having a full-time job while getting an MBA and being a single parent all at the same time? It is difficult, challenging, yet doable! Here is my experience making it all work during the first two terms of the Weekend Executive MBA program.
Fuqua has excellent professors that prepare you well in all the management essentials. But one important skill when it comes to self-development is time management. When I was told that the average time contribution to study during the program is 15 hours weekly, it seemed impossible. How could I spend what basically amounts to two workdays studying? However, there is driving time to listen to audio books, lunch time to do a few multiple choice economics questions, and evening 'study together time' to read a short case while my daughter is 'reading' her picture book next to me. I never realized how much fragmented time I had and how I just wasted it all, even though I seemed to have a very busy life being a working mom, a single parent, and raising a 3-year-old girl.
Having my daughter involved in my studies is inevitable. All the wisdom of negotiation, social influence, and leadership I've learned in class has made a direct impact at home. The interactions between my daughter and I sometimes can be challenging and mesmerizing. Once she sat on my lap watching me do game theory practice for our managerial economics class. She asked the question of zero, and I felt uneasy explaining why zero means nothing but we still need to acknowledge 'nothing' and start counting from one. Ever since I failed to smoothly explain the gap between zero and one, she has been involved in my studies more than ever.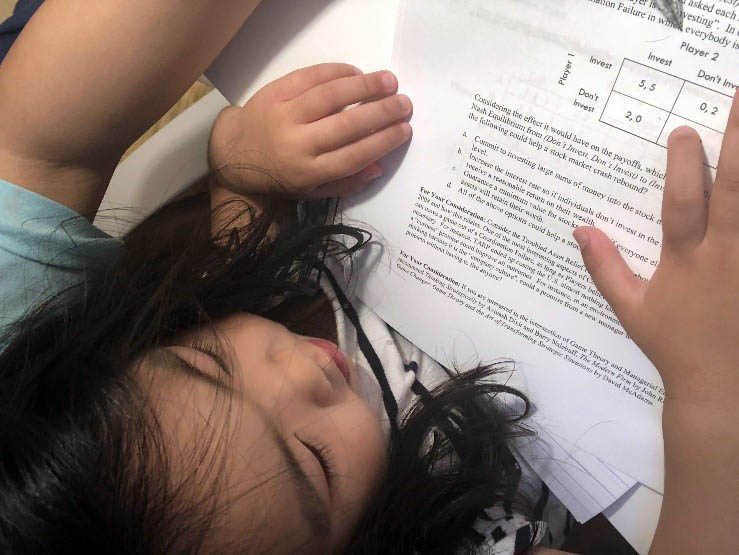 There are times she sits during our weekly team calls and watches us run an excel spreadsheet. There are nights she wakes up and finds me doing case assignments by her side. There are times before an assignment is due when she comes to check if I spelled the title correctly.
I am thankful to have had my mom help me for a short period of time. After she went back to China, my good friends would watch my daughter for the long weekends when I had to be on campus for our residencies. This couple took turns working from home to watch my daughter on Thursdays and Fridays, and I am extremely lucky to have such great support!
There are times that schedules conflict and become hectic. My daughter's Saturday ballet lesson fell during our first hybrid virtual class session. I had to join the beginning of the session at her ballet school 15 minutes before her class started. And when her class ended, she had to wait for 30 minutes for me to finish my session before we could leave. Then I dropped her off at my friends' place during the one-hour lunch break so I could begin the afternoon sessions without any distractions.
There are times when everything becomes too overwhelming. In Term 2, both my daughter and I were sick for a month during flu season. There were flight cancelations due to weather conditions, so I took a rental car and drove from New York to Duke overnight, missing one morning session. I am thankful to have such wonderful teammates to help me with the course materials that I missed.
As Term 2 finished, I reflected back on what the admissions staff told us before Term 1—everyone will transform during the program. Despite all the sacrifices I have made at work and at home, I have become a better parent, and a better role model for my daughter. Challenges and difficulties are inevitable, only when you embrace them will you find out how capable you are.