Since I started at Duke, I heard several good stories and reviews about the Global Academic Travel Experience (GATE) that allows MBAs to gain experience in China. Students from the prior year surely had an awesome time and told us it was one of those things you could not miss at Fuqua. It was not a surprise, that with all that good publicity, 104 students (nearly a quarter of our class) would sign up for it this year.
Preparation
GATE is a three-credit elective course, so prior to our departure we took some theory classes on Wednesdays during the Spring 2 term in which we learned about the business, culture, economy, and politics of the region. Learning all this in a classroom while knowing we would soon be on location was very exciting and resulted in making the term pass by very quickly. I am sure all my classmates were counting the days to our trip in early May as I was!
The Experience in China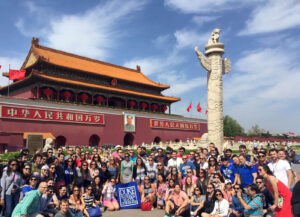 After an incredibly long flight of 14 hours, we arrived in Beijing. My first impression was that it was a very big city, somehow disorganized and chaotic, but with a lot of history and culture. The next day, we visited the Temple of Heaven, the Forbidden City, and Tiananmen Square. We also had our first taste of real Chinese food, which was amazing and so different from the 'Chinese food' we are used to having in the U.S.
Even though these places were beautiful, the Great Wall of China was by far my favorite experience in the trip. This piece of architecture with its historical significance demonstrates the wisdom and ability of the Chinese people. With more than 13,000 miles, it passes through mountains, valleys, and even rivers. No wonder why it is considered one of the greatest wonders of the world.
However, not everything was tourism-related for us. GATE focuses on gaining exposure to international businesses, and so we visited a variety of companies to learn how business is done in China. We went to New Oriental, Microsoft, PwC, Procter and Gamble (P&G), GlaxoSmithKline, and NBA China, among others. It was very interesting to meet with leaders from different industries and experience an in-depth view of a Chinese company such as New Oriental and contrast that with an American company with offices in China, such as P&G.
Besides Beijing, we also traveled to Chongqing, Chengdu, and Shanghai. These three cities are very different from each other, especially Shanghai which from my point of view, sometimes you would forget is located in China and you would think you are in a city such as New York.
Additional Travel
After the China GATE trip, many of us continued traveling through Asia. I think this is a great opportunity to become closer to your classmates and visit cities you never dreamt of going before. I had the chance to go to Vietnam, Cambodia, and Thailand. They are all such incredible countries with so much history and beauty that we should all try to go visit them at some point in our lives. In fact, if I would have to pick one of these as my favorite destination, I wouldn't be able to do it. However, I can say that the trip as a whole has been my favorite that I've ever taken. It has been an unforgettable experience.
I recommend watching this video from my classmate, Rob Pixton, in which you will get a taste of the four cities we visited in China.