This summer, seven Fuqua students from our class of 2019 had the opportunity to intern at Nike World Headquarters (WHQ) in Portland, Oregon. The experience was nothing short of amazing and we are all grateful for the opportunity. Our responsibilities spanned different functions, as we had two interns in finance, two in operations, one in brand management, one in sports marketing analytics, and one in sustainability. Although there was no 'typical' day and the work varied across corporate functions, I hope to give you an idea of what a day looked like as an MBA intern at Nike WHQ.
7:15 a.m.
Four of us lived in downtown Portland, met for coffee every morning, and carpooled to WHQ in Beaverton—about a 15-minute ride. Nike also supplied us with passes for public transit, so sometimes we took an hour-long train ride in to work. No matter our method of commute, the car rides were a good way to hear about what was going on in different areas of the company. From supply chain improvements to Nike's "triple-double" strategy (2x innovation, 2x speed, and 2x direct), to water conservation efforts in sustainability, we learned so much from each other's experiences.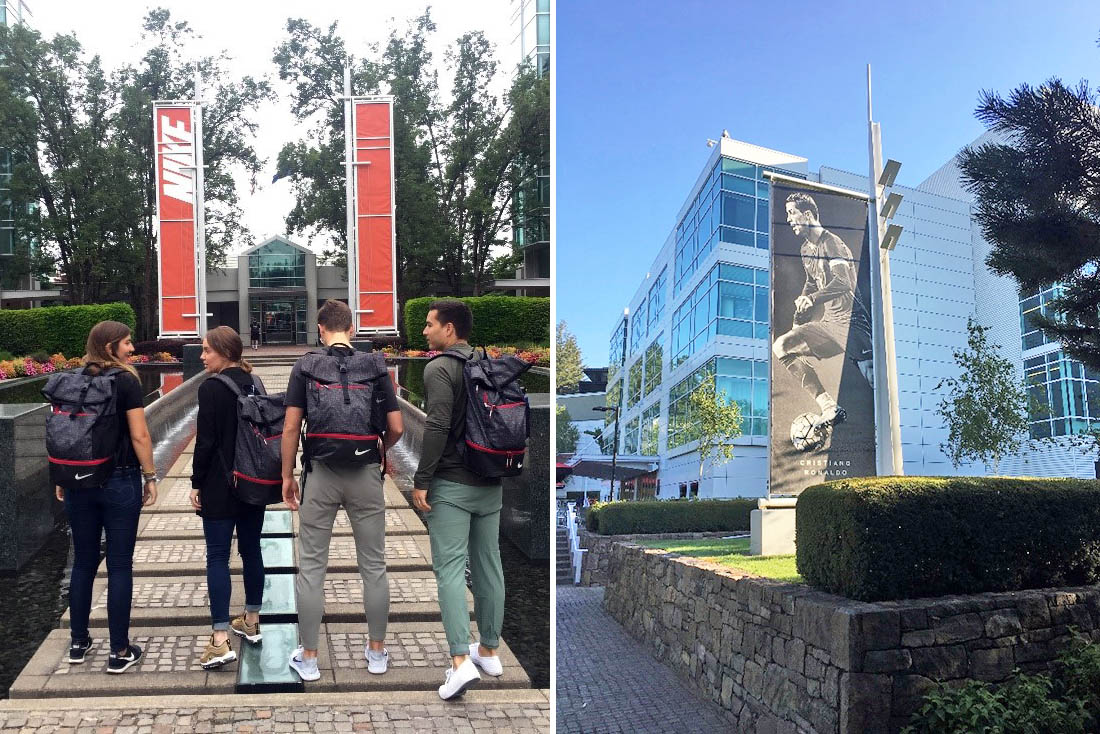 8:00 a.m. – 12:00 p.m.
Each of us had a project that we worked on throughout the summer for our respective teams. As part of our projects, we had to work with stakeholders across the company. Although my project is confidential and so I, unfortunately, can't write about it, I will say that I really enjoyed my work because of Nike's amazingly collaborative atmosphere—which made us Fuquans feel right at home.
Nike WHQ has at least five campuses within a several mile radius! Luckily, Nike has its own fleet of bikes, shuttles, and taxis to take you around to the different campuses. The Fuqua fan favorite was "Nike BIKETOWN," a city-wide bike share system sponsored by Nike.

12:00 p.m. – 1:00 p.m.
During lunch there was a multitude of fun events, especially with the World Cup going on. We had the opportunity to meet professional athletes Deshaun Watson, Chloe Kim, and the FC Barcelona men's and women's soccer teams—there was no shortage of reasons to get excited about sports!
1:00 p.m. – 5:00 p.m.
The rest of the day was spent at our desks working on our projects or in meetings with our teams. We all had peer mentors on our team who were great resources to bounce ideas off of and get feedback as we were working on our projects. All of our bosses were very supportive and helped us prepare for success when presenting to senior leadership in the company.
There was also plenty of time to engage in informational coffee chats with various leaders across the organization. One of the coolest parts about the summer was the willingness of people across the organization to take the time to chat about their roles, career paths, and insights on how to land the offer.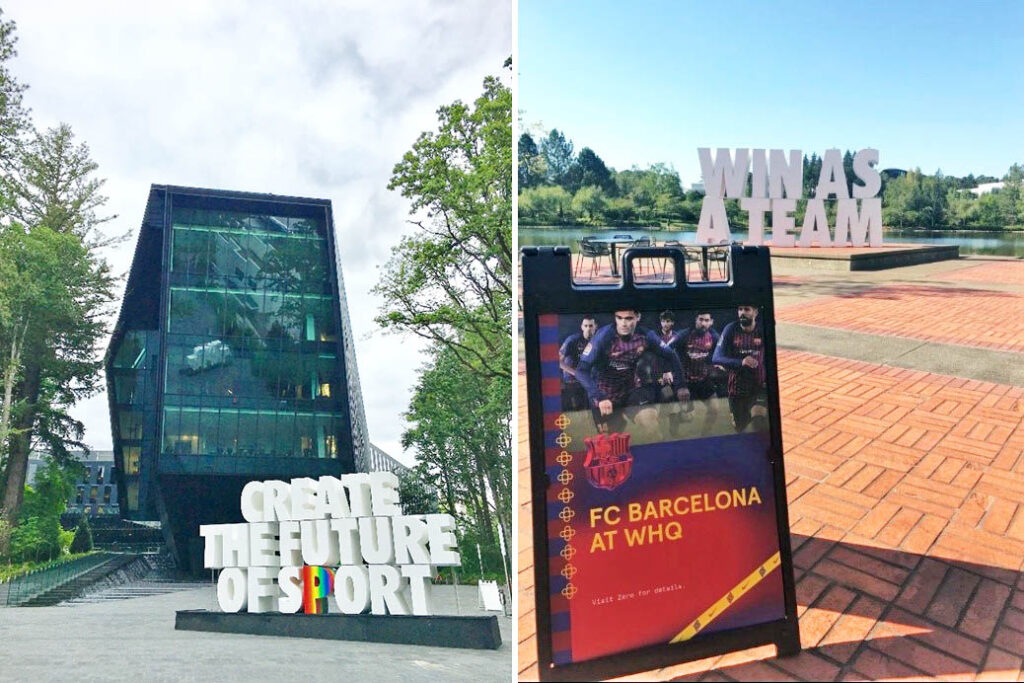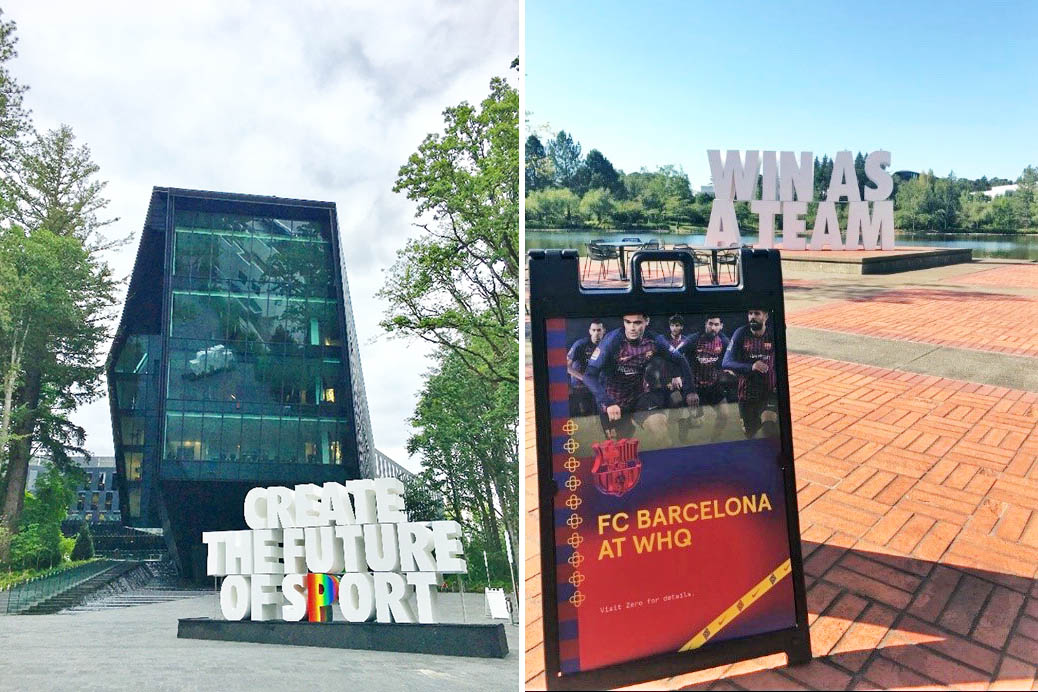 5:30 p.m. – 6:30 p.m.
This summer we had access to Nike's incredible gyms on campus so we would typically work out on our own after work or do a workout class. On Monday nights we had intern intramural leagues where we competed in volleyball, soccer, track events, basketball, water sports, and more. Our favorite workouts were in the brand new "Coach K" facility, which is named after Duke's very own Men's Basketball head coach, Mike Krzyzewski. The entire facility was centered around Coach K's professional accomplishments and personal life—right down to the café, which is his wife's namesake.
7:00 p.m. – 9:00 p.m.
We would spend our evenings in downtown Portland, exploring different restaurants, breweries, ice cream shops, etc. On several occasions, we had Fuqua "family dinners" where we would take turns hosting everyone for a meal. These were great opportunities to unwind and prepare for another busy day ahead!