Category:

Life at Fuqua
The Duke-UNC Rivalry Explained
Eight miles separate Duke from the University of North Carolina at Chapel Hill. The Battle for Tobacco Road, as it's known, is one of the greatest rivalries in college sports
Eight miles separate Duke from the University of North Carolina at Chapel Hill (UNC). The Battle for Tobacco Road, as it's known, is one of the greatest rivalries in college sports or, as I and many others would argue, in all of sports. The centerpiece of the rivalry is men's basketball, a sport in which both schools have excelled through the years.
But what makes the rivalry so great? Let me hit you with a few stats.
The two teams have been playing each other for a century—the first game was January 24, 1920. According to the NCAA, UNC ranks No. 3 on the all-time wins list while Duke sits at No. 4. The schools have combined to win more than half of all the Atlantic Coast Conference Championships and 50 regular season titles. Oh, and since the 1949-50 season in head-to-head matchups, Duke as scored 13,559 points and UNC 13,581. That's a 22-point differential over 70 years and 179 games. That stat alone should tell you how great a game it is to watch.
Now, I'd be remiss if I didn't admit my own story in all of this. Growing up in North Carolina, "choosing your blue" was a part of the deal. In my case, Duke wasn't chosen so much as it was inherited. My dad graduated from Duke undergrad in 1981 (the first season at Duke for Coach Mike Krzyzewski, as he very often points out). The brainwashing began at birth—at 6 months old, I sat in my bouncer as Duke took home the 1992 National Championship. I'm pretty sure the Duke trivia education started as soon as I was capable of speaking. And by the time I was 5, I had completely rejected wearing "Carolina Blue." To this day, I do not own anything in that particularly awful shade and will not buy anything that resembles it.
Coming to Duke for business school was the culmination of a life-long dream to be an official Cameron Crazie, as we call our basketball fans. I camped out for season tickets last fall, and you can bet I'll be in the stands when the two teams play at Cameron Indoor Stadium on March 7 (the first meet-up is February 8 at UNC).
While the rivalry hits its peak each year with the two regular season basketball games, it extends across all sports, and, in the case of Fuqua, a very special event in the spring. Each year, Fuqua takes on UNC's business school, Kenan-Flagler, in the Blue Cup, an athletic competition with more than twenty events including soccer, basketball, kickball, running, and community service, to name a few. Needless to say, I've already begun training.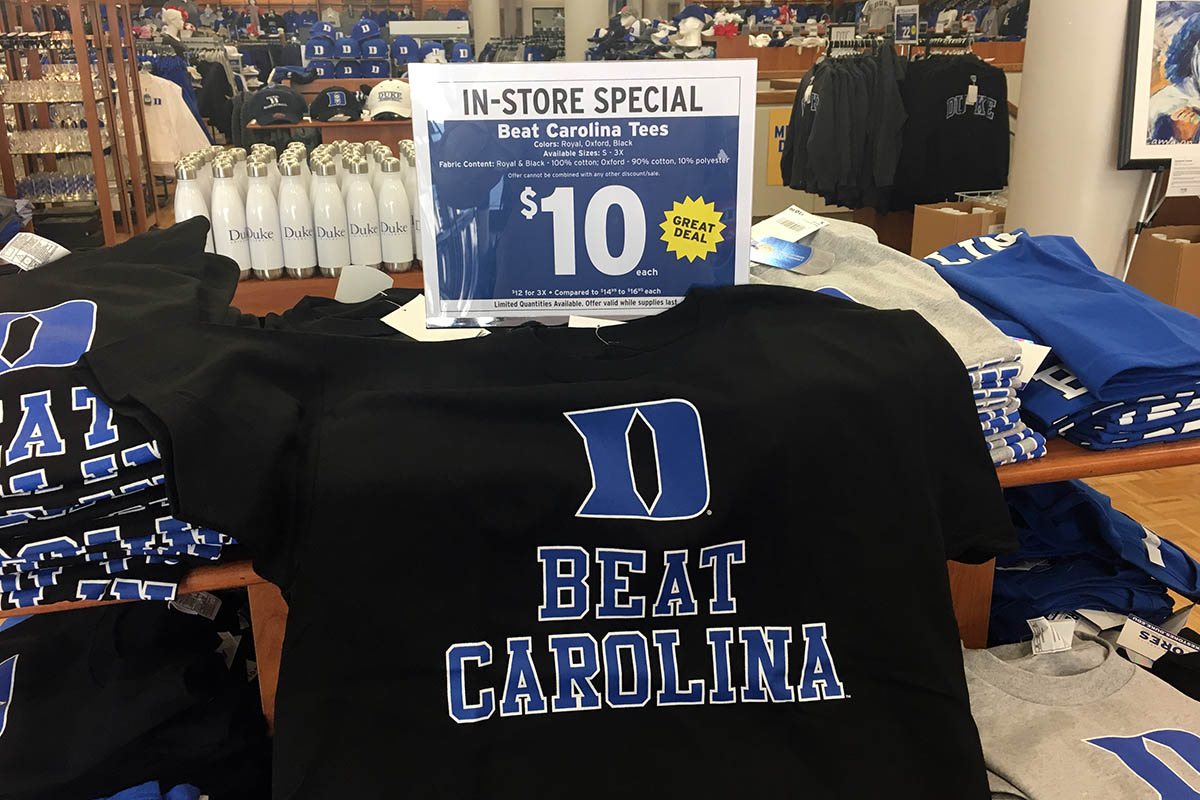 If it isn't already clear, there won't be a day that I root for UNC. That being said, two of my best friends are Carolina fans. And that's what makes the rivalry great. Duke and UNC fans are neighbors, classmates, friends, co-workers, and sometimes spouses. We hate each other a few days each year, but we respect each other and know that being a part of a rivalry like this one is unlike anything else in sports. So, Carolina, I hope you lose, but also thanks for the fun.
For more on the rivalry, check out this article, and I also highly recommend HBO Sport's "Battle for Tobacco Road."