Category:

Community
Learning to Try in a Trying Year
Reflecting on the sun setting on my time here at Fuqua, I share the speech I delivered to my peers at the MBA Association Academy Awards event.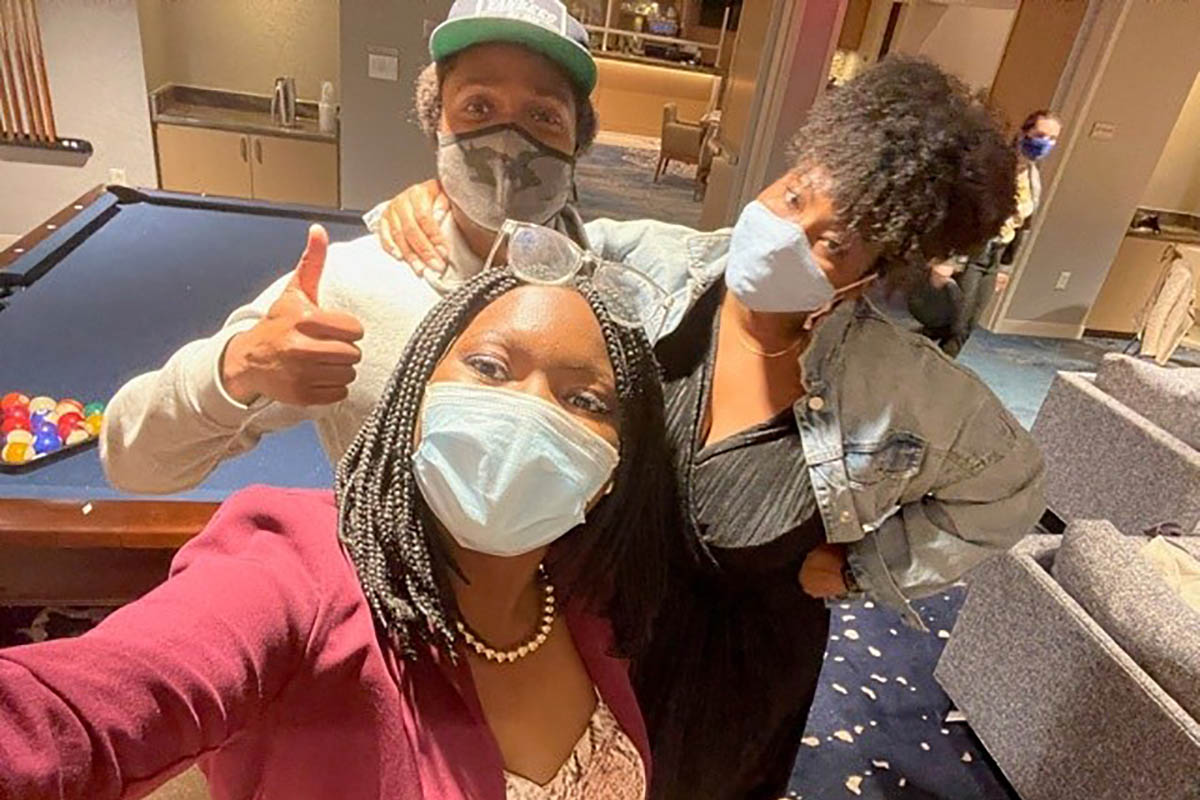 Reflecting on the sun setting on my time here at Fuqua, it has been delightful to experience the true greenery of North Carolina, the cherry blossom trees, and to see the smiles of peers who have spent the last year isolated indoors. The atmosphere feels different now, with vaccines and impressive management of COVID-19 safety from the Duke end, there is something I see now in so many faces; hope. Hope to make the most of our last weeks, hope to have one more walk, and hope to make one more memory.
With this as a backdrop, I caught up with a dear friend, Nathalia Borges , at the JB Duke Hotel. We were supposed to meet for an hour and ended up staying for two hours and thirty minutes. We discussed her home country of Brazil, we covered the pandemic, Nigeria, Fuqua, the U.S., racism, allyship, our experiences, my time taking English as Second Language, and so many other things.
When Nathalia shared about her journey here, I was honestly touched. This was someone who could not make it home at the time of lockdown and was experiencing the pandemic in a foreign country, yet found her voice, her will, and courage to lead. I was so curious about how she persevered that I asked her one question, "What kept you going?" Her response was something that resonated with me; that she had to, she just had to try.
She saw us in the MBA Association, the administration, and different student leaders making the effort. And for her, just like when I experienced a sense of not fully belonging, she could either wallow or try, and so she tried.
Nathalia led summer programming for Fuqua during the pandemic, she essentially wore many hats of the MBA Association while also navigating what this experience meant for her and participating in her internship. She was the go-to person last summer and handled it all with grace, poise, and assertiveness.
What I thought would just be a simple catch up became the inspiration behind my reflection and speech for our MBA Association awards.
The first annual MBA Association "Academy Awards" was created by co-presidents Mike Treiser and Sarah Izzo to thank and honor the cabinet for efforts over the past year. It was also a way to bring both the first and second-year cabinet together with the administration for a night of fun and celebration.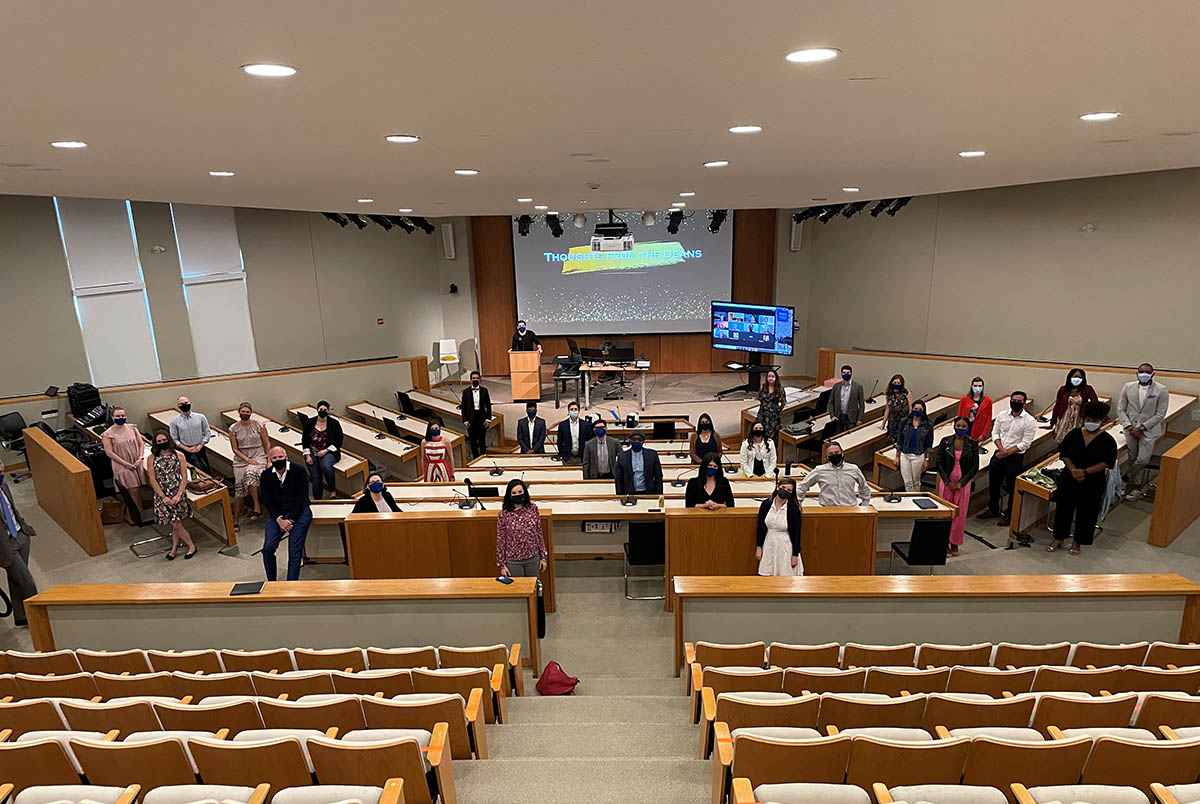 I definitely felt celebrated and emotional to start the first of many closing ceremonies. Before the event, Sarah asked me to write a speech reflecting on our time. I am not the best speech writer but I do love writing a good story.
In thinking of Nathalia's story and the many stories here at Fuqua, what stands out is that we all try. We tried. We try. We have to make the effort. That's what keeps Team Fuqua going and that's what makes the experience transformational. If you don't lean into it, no matter how challenging or frustrating, the journey becomes only half worth it. Our team made the effort and impacted so many people here and that was what I wanted to convey to them; that it was all worth it.
The speech itself centers around a fictional Fuqua student, Olive. Olive, to me, sounded gender neutral but I ended up using the name to describe a woman. I wanted each of us to understand the journey of the Fuqua student that is not a leader but ends up becoming one by nature of making the effort because those around her decided to lean in.
Sometimes we are so knee deep in the work we do that we can lose focus of the bigger picture and the overall impact we have. My hope was for each of us to see a little piece of ourselves in Olive; her journey to Fuqua, her experience during the pandemic, her decision to lean in, and the fruits of her labor. Despite the differences in background, country, socio-economic status, gender, etc. that make us so unique, we have more similarities than we know and this experience truly helps us to understand each other.
I want to toast to the Olives of the world and to those who keep on working to make a difference in the lives of their peers. It sometimes is not easy, but growth rarely is. Regardless, you are seen, recognized, and celebrated. Keep on doing the good work and cheers to you.
Here is my story of Olive and the speech I delivered to my peers:
Because of you
I'll start with the story of Olive – Olive can be a man, woman, Black, white, Asian, LatinX etc
Olive felt gender neutral but we can debate on that, but today I'll use Olive in terms of a woman
Olive is a Fuqua student
She worked really hard to get into Fuqua, she probably spoke to some of you over and over again to connect on GMAT, 25 facts, and interview questions
and when she received her acceptance letter, she was so ecstatic, to the point of tears
Sometimes we can take this place for granted because we are so used to the day-to-day experience
but there was delight within Olive because she was going to THE Fuqua school of business, an elite school that would open many doors for her
Olive was terrified but the decision felt right, the people felt right, and the environment felt right
I won't lie, at first it was challenging for Olive – drinking from the firehose academically, figuring out recruiting, and trying to understand how to fit and belong in a space where her peers were so different yet so similar
It took some time, many nights at Shooters, Tavern, Fuqua Fridays, and club events, but Olive started to find her voice and also started to cultivate genuine relationships
As she found her footing, the pandemic hit and it felt like life was spiraling again
The same questions we had, she had
How would she cope when her family was so far? How would she survive the isolation? Where would she find her community? What did this mean for her experience?
Olive was so heartbroken at the sense of loss and grief in a situation outside of her control
Despite this, things started to happen
She attended a discussion held by the MBA Association on mental health during Covid-19
She took up CAPs and Blue Devil Cares
She went to the weekly trivia nights
She took organized walks with her classmates
She empathized and found ways to support her international friends who were also experiencing their unique sense of grief and loss
She supported and attended all the summer programming events
She started getting deeper into learning how to be anti-racist and be an ally
She donated to many causes, supported local schools and businesses, and began to compost
She spent time thinking through her career options and what life truly meant after Fuqua
She embraced the incoming class with open arms and became an orientation daring dialogue facilitator
She laughed and looked forward to each of the Fuqua This Week articles, because they brought little pieces of joy and humor in such bleak times
She interacted with the MBA Association Instagram page because of their quick and warm responses
She attended the donut drop off during finals held by the academics chair
She toasted to the things she was grateful for
Most especially the Grubhub vouchers
She tried and she tried because she had these options
She was given these options, despite it all
Because of you
Because of this team, every day we spent this summer, every meeting we hashed things out, every frustrating GroupMe message we tackled, every phone call at midnight we had, someone like Olive was having a better experience than they expected
I recently grabbed dinner a few days ago with an international peer, it was incredible how she felt she embraced her voice, and her accent because she said yes to the opportunities afforded to her through the past year
It's easy to lose sight, it's easy to lose focus, but ya'll, we did it, We actually did it
I've thought a lot about the Olives in our class and the ones who will carry the mantle in our place moving forward
Team, you may be tired and your bones weary, but who would ever know the type of impact we would have?
I am proud of you, I am thankful for you
In a way, I am also Olive, I learned to persevere and to lean on my community
I hope you can carry this forward, continue to be the badasses you are meant to be and impact the Olives/Olivers/Olivxs out there
You deserve to be celebrated and recognized because despite it all, because of you, this was so worth it
Thank you