Category:

Community
Finding My Voice at Fuqua
I would describe Fuqua as my lifetime school, where I have grown professionally and personally, where I learned important life lessons, and where I met lifelong friends.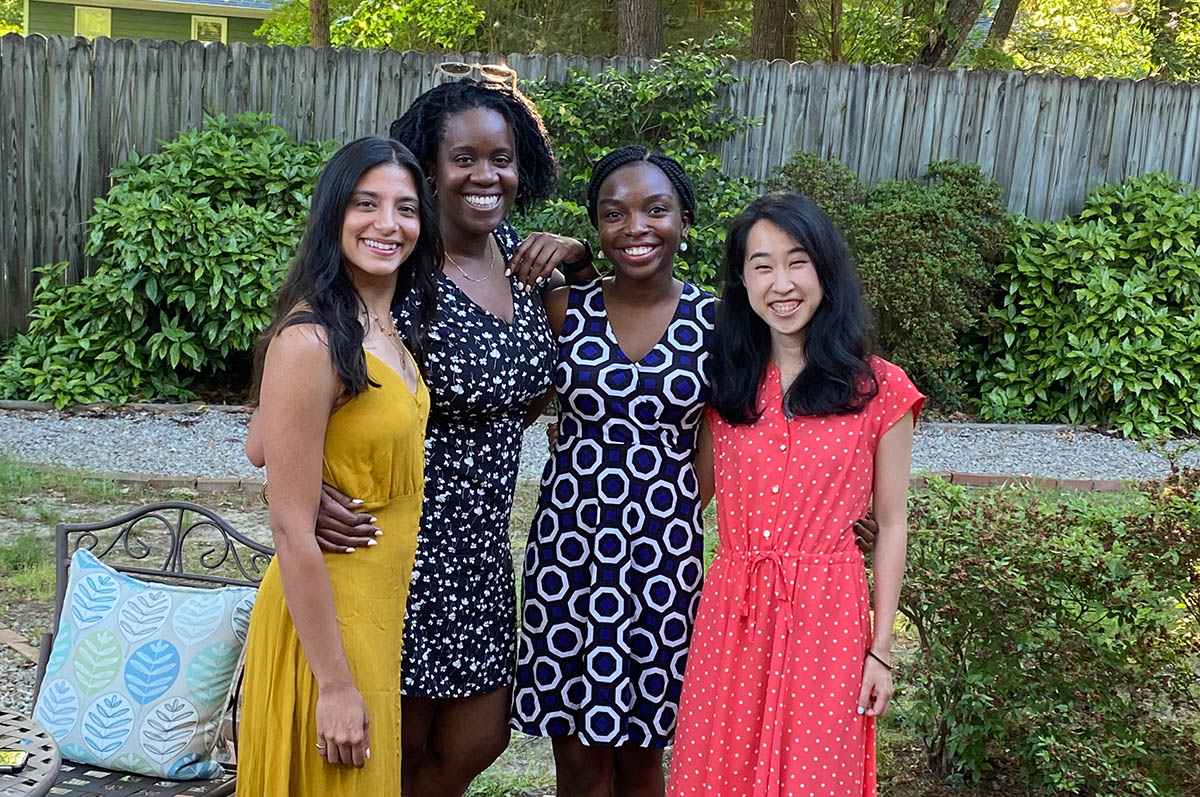 Our in-person graduation ceremony was on May 15, 2021. As our class sat inside Cameron Indoor Stadium, I reflected on my two-year journey at Fuqua. I thought to myself, if someone were to ask me to describe Fuqua in a few words, how would I answer?
I was born in the U.S. but grew up in Japan. I came back to the U.S. for the first time in 25 years to study. This had been my dream since childhood, and I still remember how excited I was when I got accepted to Fuqua.
However, my two-year journey here has not been easy. In addition to the typical language and cultural barriers as an international student, the global pandemic further complicated my experience. I have felt very disheartened to see how the pandemic has both highlighted and intensified social inequality in the country where I was born. This includes the increased violence and discrimination toward the Asian community. I was also kicked around like a ball between two governments regarding visa issues due to the pandemic.
My experiences during the pandemic felt discouraging and encouraging at the same time. In some instances, I felt I was seeing the worst in people and in the larger world. At the same time, I have also seen the best in people, especially in the Fuqua community. My classmates were always there for me when I needed help. When I felt I did not belong anywhere during the pandemic, my classmates and the school not only supported me mentally, but also advocated for me. I learned what supportive ambition, one of the paired principles, or the values that represent all members of the Fuqua community, really means.
Also during the pandemic, my classmates stood against racial injustice in many ways. Some compiled and shared resources so we could all educate ourselves. Others initiated Daring Dialogues, or conversations on topics that can be challenging, to give us the chance to learn from each other.
Still, others used social media, and finally some developed an implicit bias workshop for our orientation program. I learned the importance of speaking up for myself and others, the power of solidarity, and the importance of being vulnerable and authentic.
These individuals gave me the courage to speak at two panel sessions. The first was about international experience and racial injustice. For the other, I was able to share my perspective as an Asian American and Pacific Islander (AAPI) regarding the recent rise of hate crimes towards Asians. I never thought I could participate in these sessions prior to joining Fuqua. Stepping outside of my comfort zone, and with the support of my classmates, I received Fuqua's Authentic Engagement Award, which is a true honor that I still can't believe.
Meeting so many incredible female classmates has also changed me. I grew up in a country ranked 121st out of 153 countries in the Global Gender Gap Report. Only recently have I realized the impact this has on me and just how much I unconsciously limit myself.
Countless times after being sexually harassed or when I was the only woman in a room, I've said to myself: "I wish I were a man so that my life would be much easier." But I have changed, after observing my classmates. One of my peers delivered two babies while pursuing her MBA. Another is raising her children while serving as a club co-president, recruiting, and succeeding academically, and she even won a case competition. One of my section mates is an Olympian. Another co-founded a company during the pandemic.
My best friend at Fuqua founded her company when she was in college and now she is pursuing a career in Venture Capital. They've taught me that it is ok to say something when you're not comfortable. Not only is it okay, but it is important to speak up because it is not only for yourself but also for the next generation.
I can't express how grateful I am to my wonderful classmates for these important takeaways. They've made me realize how much I limited myself and how afraid I was of speaking up. Now I can say I've never been prouder to be a woman.
Back to my original question, if I had to describe Fuqua in a few words, I would describe it as my lifetime school, where I have grown professionally and personally, where I learned important life lessons, and where I met lifelong friends.
Lastly, I would like to share a quote from an email that one of my close friends, Allen Huang, sent to a few classmates the day before our graduation ceremony: "No family members are visiting this year, but we're already a FAMILY."