Category:

Experiential
Becoming a Problem-Solver in Consulting
Coming into Fuqua, I did not have any consulting experience, but I was interested in learning more about the field.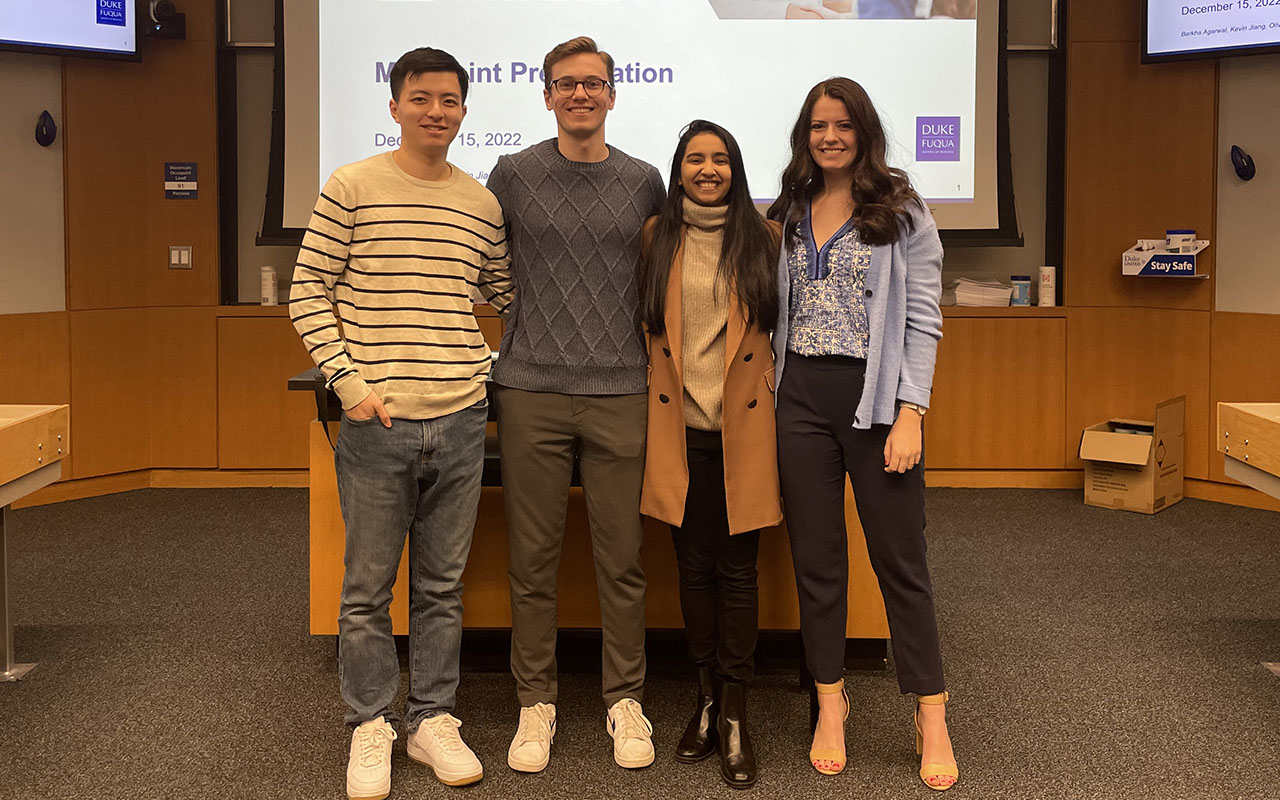 Coming into Fuqua, I did not have any consulting experience, but I was interested in learning more about the field because it combined a lot of business aspects I liked—research, data analysis and interpretation, and solving problems. The Fuqua Client Consulting Practicum (FCCP) provided the opportunity to gain consulting experience, work on a team, engage with a client, and better understand the consulting problem-solving process. Above all, I learned that team dynamics are challenging to maintain. While working alone may have been easier, our team was most effective when we worked together.
At the start of FCCP, my team of four was assigned to work with a client in the health care industry. Our Engagement Manager (EM) Adam Malik, a second-year MBA student with consulting experience who had taken FCCP the year before, was there to guide our team through the process. Adam was a crucial part of the experience. As our EM, he made it a priority to connect with each member of my team individually, which made me more comfortable hearing his feedback for me. Several team bonding activities, such as golfing at the Washington Duke Inn and axe-throwing in downtown Durham, helped us to connect and enjoy one another's company.
Just as in real-world consulting, the client brought our team a problem and asked us to help solve it. We had to think outside the box to define the problem, and then redefine it, again and again. My team met with our client each week to redefine the problem, update our research, and ask for any company information needed to move forward. We were tasked with performing a macroanalysis of our client's industry to prepare the company for fundraising in the upcoming year.
We broke the problem down into four parts: market size, growth, competitive landscape, and customer survey. I took the lead on researching, designing, launching and tweaking a survey aimed at gathering comprehensive data that would strengthen our team's final recommendations to the client. After several months of meetings, informative class sessions, and insightful research and discussion, we completed our project with a final presentation of our recommendations for the client. Our client was happy with the project's end results and congratulated the team on a job well done.
Throughout my FCCP experience, I learned consulting work isn't linear and we had to embrace change. After more in-depth discussions with the client and our research, we defined and redefined our project's problem definition. There were a lot of moving parts throughout the process. I learned being accepting and understanding of the process helps alleviate some of the stress that can accompany the changes. Not only has FCCP been a résumé booster, but it has also given me more consulting-focused experience to discuss in full-time job interviews and a stronger desire to pursue a career in consulting.