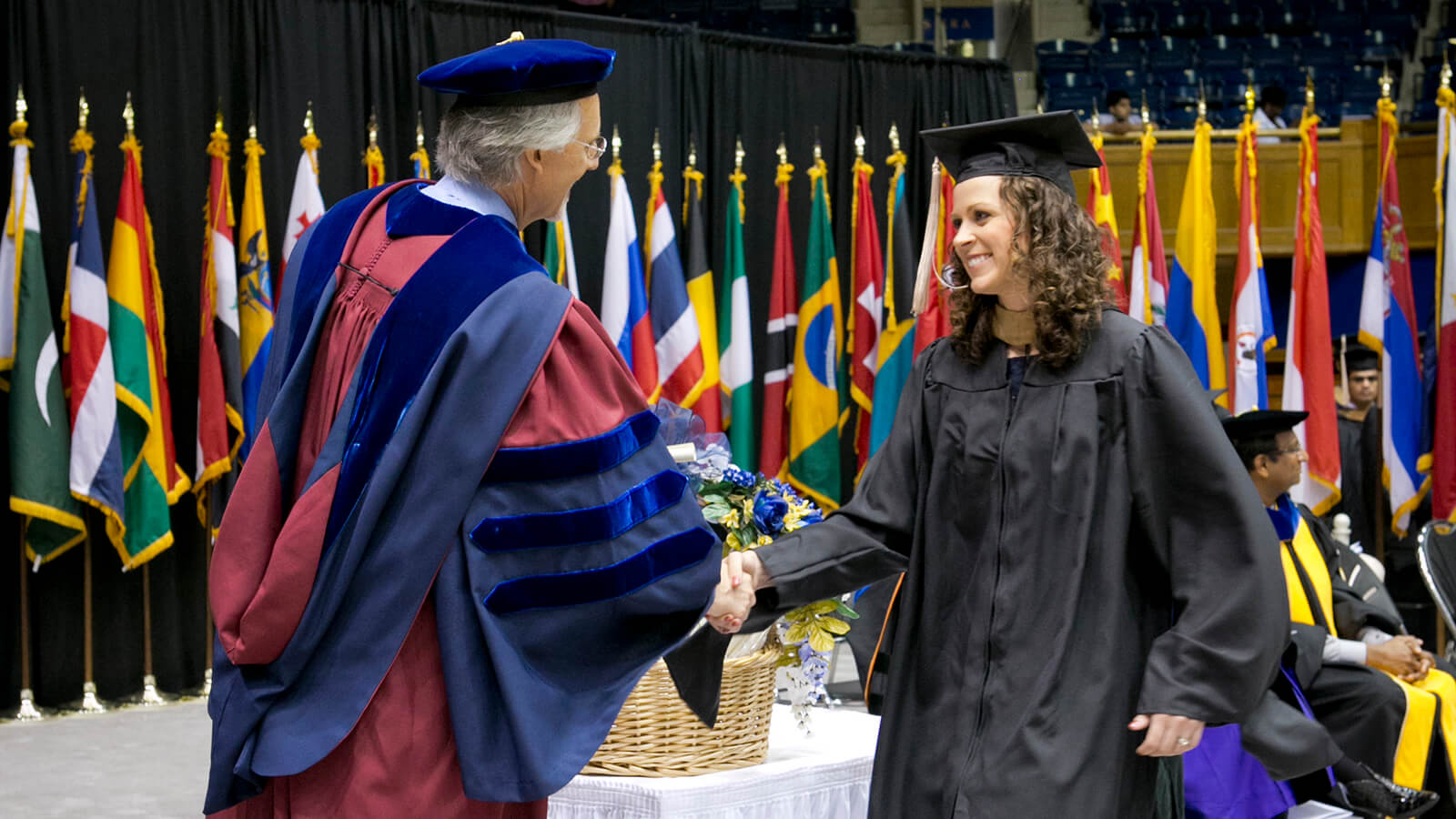 As students both young and old headed back to the classroom this past fall, it became extremely apparent to me that I was no longer one of them. No more evening reading. No more team meetings. No more weekend trips to Durham.
It actually seems hard to believe that it's been well over a year since I walked out of my final on-campus residency. Lessons learned have either moved to long term memory or flown out the window. So what actually sticks? How much of what I learned at Fuqua do I actually remember now that I'm in the 'real world?' As a Fuqua alumna, has anything actually changed?
Naturally, my answers to these questions will be different from my classmates in some ways, yet the same in others. I've already seen some of my Weekend Executive MBA (WEMBA) class use their degree as a catalyst to different roles, different employers, and even entirely different industries. This kind of growth and advancement is extremely tangible and certainly speaks to the possibilities of a Duke MBA. However, there are also a number of less tangible changes one can experience that are just as meaningful personally and professionally. Here are 3 of them:
1. Growth of Your Network
The bonds formed over the 18 months spent studying together are extremely strong. Losing that regular rhythm of connection and challenging each other felt strange at first. Don't get me wrong—I now fully appreciate the beauty of an evening at home with nothing on my to-do list but catching up on Netflix.
However, the novelty of this wears off quickly, and perhaps that is why I have actively sought to reconnect with classmates on a regular basis. Connecting comes in a variety of forms. There have been happy hours large and small, in many locations. There is a classmate in almost any major city to which I travel, and they're usually up for grabbing lunch. LinkedIn has been the source of many job opportunities and connections, and it provides an easy way to stay in touch with the group as a whole. All of this made the transition back to normal life a little less sudden.
Although the WEMBA class technically graduates in December, we didn't walk across the stage until the university-wide commencement ceremonies the following May. Graduation felt like a big family reunion. We had a chance to reflect and celebrate alongside our families for the day. A fellow classmate was generous enough to host an evening reception as well. These really are people who I will be connected to for life, who support me as well as challenge me.
2. A New Set of Skills
A second change as a Fuqua alumna can be seen in my approach to challenges and method of problem solving. Certainly there are more analytical tools in my tool belt than there used to be, but it's not any one methodology or any particular course that I can credit with the improvement. Rather, it is the combined impact of my confidence in using them and ability to interpret the results.
These soft skills are formed over time and provide a great value that can be overlooked when acquiring new technical skills. I have a new tool, and how can I properly leverage it to make smart decisions? Who on my team would benefit most from also acquiring this skill? I think about colleagues differently, recognizing what they may bring to the table and actively doing what I can to bring out their strengths.
And finally, how can I effectively lead my team in the best direction based upon the results? I communicate more clearly, but also take the time to listen and not just hear. I've developed into less of an execution-focused manager and more of a strategic leader, guiding the team toward positive results. This new framework of how to collaborate and lead teams is the essence of Team Fuqua.
3. Challenging the Status Quo
Finally, in a post-Fuqua world I no longer find the status quo acceptable, particularly for myself. A single-minded pursuit of a career isn't enough. I know that there is so much more out there, professionally and personally, and so many people doing great things. I'm just plain curious about all the different opportunities.
My interactions with the Duke community have inspired me to pass the MBA torch. I regularly take calls from prospective students trying to decide whether or not to enroll, where to enroll, and why. With my newfound spare time, I have been able to reach out to my local Charlotte community more than in the past. Lastly, and of course most importantly, I've been able to spend the time with my family that they deserve after making sacrifices while I was earning my MBA.
So has anything changed after graduation? Most definitely. I continue to discover more and more things with each passing day. I suppose that means I'm still a student, even now that I'm back in the real world.